Bust of Isis, 2nd century CE (Hadrianic period, 117-138 CE)
Overall: 4 1/2 in x 2 5/8 in x 1 3/8 in; 11.4 cm x 6.7 cm x 3.5 cm
Purchase with the Nancy Everett Dwight Fund and the Psi Omega Society Fund in honor of Mary Gilmore Williams (Class of 1885)
The cult of Isis spread rapidly throughout the Mediterranean basin during the Roman period initially among non-Romans, slaves, and women—those on the margins of society—as an alternative to the more staid Roman state religion, from which these groups were largely excluded. The appeal of the cult of Isis, as well as other such mystery religions, was direct communion with the deity, colorful and lively rituals, the possibility of redemption, and the promise of personal immortality. This bronze bust of the Egyptian goddess Isis dates to the high Roman empire (ca. second century CE) when the popularity of her cult was at its zenith. Here she wears a headdress featuring a serpent (uraeus), a traditional symbol of Egyptian royal power, and grain, a symbol of fertility and abundance.
An important cult ritual in the Roman period involved the launching of a ship bearing her image in early spring in order to ensure a safe and prosperous navigation season. Initially outlawed in the early empire, the worship of Isis eventually became more accepted—there was a temple of Isis in Rome itself—partly because it included prayers for the well being of the emperor and the senate and therefore (unlike Christianity) was not a threat to the political power structure of Rome.
-Geoffrey S. Sumi, Associate Professor of Classics and Italian, Mount Holyoke College
Global Perspectives: Exploring the Art of Devotion (February 9 - May 30, 2010)
Events And Links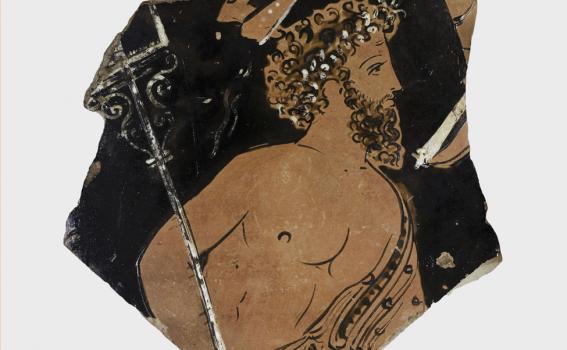 September 21, 2010

to

June 3, 2012
Reconstructing Antiquity
How does one gain an understanding of antiquity from looking at works of art? In a series of thematic groupings of objects from ancient Greece and Rome, Reconstructing Antiquity explores daily life in the ancient world, representations of ancient women, and aspects of storytelling and mythology...