President Mary Emma Woolley
Place made:
North America; United States
President Mary Emma Woolley, ca. 1909
frame: 135.89 cm x 110.49 cm; 53 1/2 in x 43 1/2 in; stretcher: 49 1/4 x 39 5/8 in.; 125.095 x 100.6475 cm
Gift of the Class of 1909
Mary Woolley is an emblem of elegance in this portrait by John White Alexander. Feathery brushstrokes and delicate shadows make her prestigious, dark robes weightlessly cascade off the canvas and highlight her dignified facial expression. Woolley lightly thumbs a book with one hand while holding a poised fist with the other, possibly an allusion to her knowledge and composed passion. Alexander's portrait of Woolley demonstrates a trend among male artists of this era, who often painted women as domestic, inwardly emotional beings with exquisite exterior refinement.
-Katia Kiefaber '17, Art Museum Advisory Board Fellow, Mount Holyoke College Art Museum (Nov. 2017)
Events And Links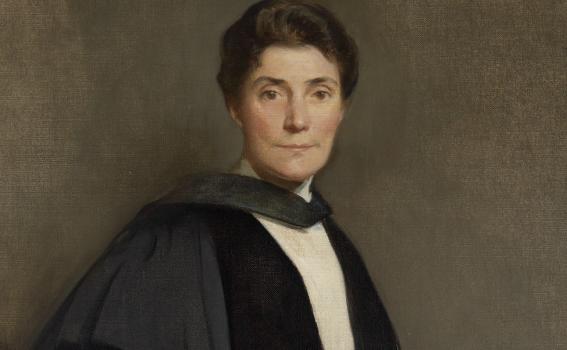 November 21, 2017

to

May 27, 2018
Portraits of Mary Woolley
Mary Woolley accomplished many feats in her 36-year term as president of Mount Holyoke College. Today, she is remembered for laying a foundation for LGBTQ inclusiveness at the College. Her romantic relationship with Professor Jeannette Marks and their activism is the subject of the acclaimed...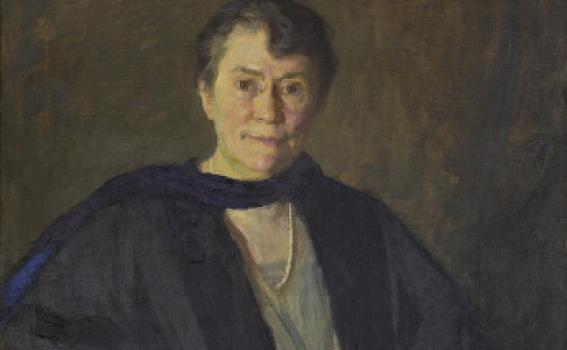 Page, Marie Danforth
American (1869-1940)
Mary E. Woolley