Double spout and bridge vessel
Double spout and bridge vessel, 900-1400 CE
Earthenware; burnished (blackware)
Overall: 7 5/8 in x 8 in x 6 in; 19.4 cm x 20.3 cm x 15.2 cm
Gift of Mr. Hershel Richman and Dr. Elizabeth Rosner Richman (Class of 1967)
Ancient Americans did not use the potter's wheel, but created masterful ceramic vessels through a variety of techniques, including coil-and-slab construction and hand modeling. The Moche culture of north coastal Peru and their descendants, the Lambayeque people, were especially sophisticated and mass-produced elegant vessels like this one using multipart clay molds. Excavations at urban sites in the Lambayeque region illustrate the complexity of these societies, and have revealed ceramic, metal, and weaving workshops.
Events And Links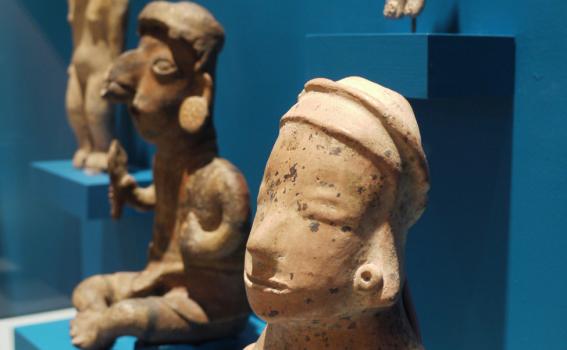 November 29, 2012 | Gump Family Gallery
Encounters
Faces of the Ancient Americas
Gallery Talk
Gallery talk by Rachel Beaupré, Assistant Curator and exhibition curator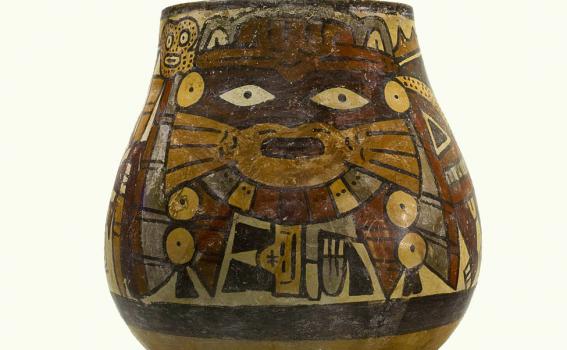 August 10, 2012

to

July 7, 2013
Encounters
Faces of the Ancient Americas
To 16th-century European observers, artifacts of indigenous Mesoamerican and South American peoples possessed a scintillating foreignness that was simultaneously alluring and frightening. The perceived primitiveness of these objects persisted for centuries, with the first exhibitions of Ancient...