An Artistic Legacy in Prints
January 20, 2015
Through June 14, 2015
In the Anne Greer and Fredric B. Garonzik Family Gallery
Featuring 23 woodblock prints, this exhibition explores the establishment and development of the printmaking tradition of the Yoshida family, which produced multiple generations of print makers. In the 1920s, Yoshida Hiroshi—the key figure of this exhibition—turned to printmaking from his original oil-painting training and created a series of naturalistic prints that attracted domestic and international collectors. His prolific printmaking career inspired and deeply affected the artistic paths of seven other family members—Fujio, Tōshi, Kiso, Hodaka, Chizuko, Tsukasa, and Ayomi—all of whom became print makers. These Yoshida artists shared a love of nature and travel, from which they drew inspiration for their prints. The art of each, however, demonstrates the diverse styles they developed based on their individual experiences and influences. Letters and photographs from the Mount Holyoke Archives and Special Collections on view in the exhibition reveal the artists behind the artworks, as well as their close collaboration with Dorothy L. Blair, a Mount Holyoke alumna from the Class of 1914 and the donor of most of the prints on display.
Curated by Yingxi (Lucy) Gong '13, Art Museum Advisory Board Fellow
This installation is made possible by the Lucy P. Eisenhart Fund.
Events And Links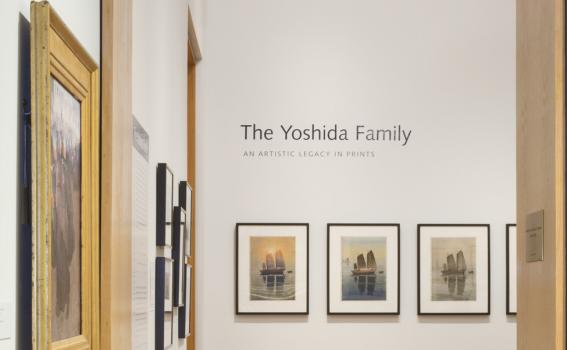 March 5, 2015 | Anne Greer and Fredric B. Garonzik Family Gallery
The Yoshida Family
An Artistic Legacy in Prints
Gallery Talk
Yingxi (Lucy) Gong, Art Museum Advisory Board Fellow and exhibition curator