Soft Voices: Textiles and Memory
January 20, 2018
Through April 15, 2018
In the Hinchcliff Reception Hall
Quilt with tumbling blocks pattern (detail), ca. 1845-1885
Maker unknown (American)
Silk, satin, and velvet
SK 2006.1110.INV

Shoulder bag; Bandolier bag (detail), ca. 1900
Maker unknown, Ashinaabe (Ojibwe)
Cloth and glass beads
SK K.61

This collection spotlight puts two very different objects in conversation: an optically dazzling 19th-century quilt with the tumbling blocks pattern and artist Michelle Grabner's 2016 untitled bronze sculpture of a crocheted blanket. Voices, stories, and photographs may fade or disappear with time, yet through these works, tangible and deeply personal objects persist as a mode of communication and connection across generations. Just as quilts transform old clothing into works of art, Grabner's sculpture gives new life and meaning to a worn out blanket.
A related object is featured in the current Joseph Allen Skinner Museum Spotlight. A ca. 1900 Anishinaabe (Ojibwe) shoulder bag, typically worn by men but made by women, speaks to cultural contact between Native America and Franco-Europeans and adds to broader Museum conversations about the artisans and contexts of textile arts.
Curated by Cassie Peltier '18
This collection spotlight is made possible by a grant from The Pierre and Tana Matisse Foundation and the gifts of individual donors in support of Mount Holyoke College Art Museum's Diverse Voices Initiative.
Events And Links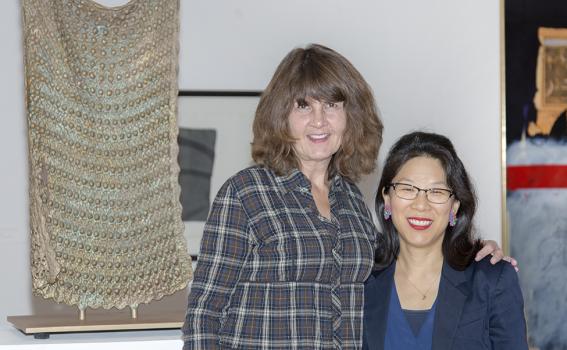 Artist Michelle Grabner in conversation with Museum Director Tricia Y. Paik
Video recording