African American Artists and the Experimental Printmaking Institute
The Janet Hickey Tague '66 Collection
August 10, 2012
Through December 23, 2012
In the Anne Greer and Fredric B. Garonzik Family Gallery
David Driskell (American, b. 1931)
Mono print, relief
MH 2007.7.6

This exhibition features a selection of outstanding works on paper by prominent African American artists, all produced at the acclaimed Experimental Printmaking Institute (EPI) at Lafayette College in Easton, Pennsylvania. On view are a range of printmaking processes including serigraphs, relief prints, color etchings, and lithographs by eight internationally renowned artists: Emma Amos, David C. Driskell, Melvin Edwards, Sam Gilliam, Robin Holder, Joseph Holston, Curlee Raven Holton, and Faith Ringgold.
These important works were generously donated to the Museum in 2007-2008 by Janet Hickey Tague '66, former Mount Holyoke College Trustee and long-time EPI supporter, thereby establishing the Tague collection of prints by African American artists. This gift of 17 prints significantly enhanced the Museum's holdings in this area and was an important step in Mount Holyoke's efforts to acquire key works by artists of color.
Under the direction of founder and master printer Professor Curlee Raven Holton, the Experimental Printmaking Institute has become known for its dynamic and collaborative approach allowing artists, students, and printers from diverse backgrounds to experiment with traditional printmaking techniques and to create new bodies of work. Holton established EPI in 1996 "as a way to create a living classroom that embraces diversity, creativity, and collaboration." Over the years, the Institute has generated works of art that have been showcased internationally in traveling exhibitions and now figure prominently in collections worldwide.
Events And Links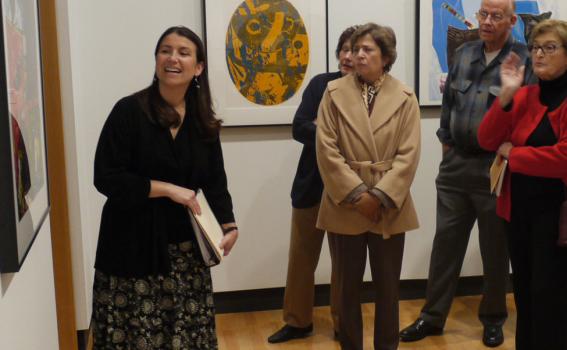 October 25, 2012 | Anne Greer and Fredric B. Garonzik Family Gallery
African American Artists
and the Experimental Printmaking Institute: The Janet Hickey Tague '66 Collection
Gallery Talk
Gallery talk by Ellen Alvord, Andrew W. Mellon Coordinator of Academic Affairs