Art And... Podcast: Episode 5
Social History and a Turkmen Wedding Camel Trapping
On this episode of Art And..., Mollie Wohlforth '19 discusses a Turkmen asmalyk (a camel trapping for a wedding) with UMass Professor of Art History Walter Denny and MHCAM Associate Curator of Education, Kendra Weisbin. Join them as they discuss what this carpet can tell us about Turkmen society, the lives of the women who made it, and its journey to MHCAM.
Scroll down to listen on Soundcloud, or subscribe on Apple Podcasts.
Events And Links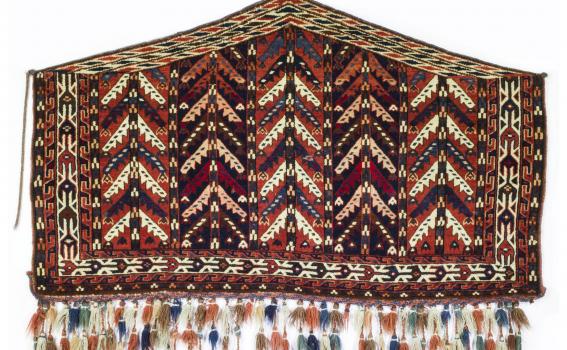 A 19th-Century Turkmen Asmalyk
In this Objects of Our Affection post, Associate Curator of Education Kendra Weisbin weaves together the history of a beautiful 19th-century textile—a 2017 gift to MHCAM—and her own cultivation as a specialist and enthusiast of Islamic carpets.