Student Guide Program at the Mount Holyoke College Art Museum
The Student Guide Program offers students an opportunity to work closely with Museum staff, learn about the Museum's collections, and give tours to campus, community, and K-12 audiences. While the fall semester operates on an unpaid, volunteer basis, two credits are available for program participants in the spring semester (through ARTH-295P) for the work completed throughout the academic year.
You need not be an art history major to apply! MHCAM Student Guides come from a wide variety of majors and disciplines. Successful candidates will be intellectually curious students with a diverse range of interests and backgrounds. More information about the program and its requirements can be found on the application, available below.
The application deadline for the 2018-2019 academic year is Friday, April 6 at 5:00 pm. For questions contact Kendra Weisbin, Associate Curator of Education, at kweisbin@mtholyoke.edu.
Download an application.
Events And Links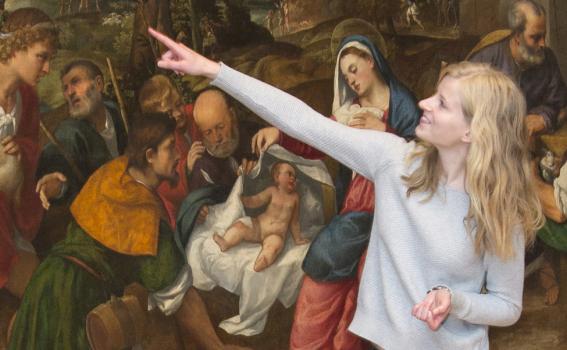 Confessions of a Museum Guide
Medieval studies major and public history minor Kristina Bush '17 shares her experience as a participant in MHCAM's new Student Guide Program. Reflecting on two semesters of weekly meetings at the Museum, field trips, research, and tour training, Kristina writes, "I feel as if I have found my place at Mount Holyoke in the Student Guide Program."