Money Matters: Meaning, Power, and Change in the History of Currency
August 31, 2019
Through June 21, 2020
In the Anne Greer and Fredric B. Garonzik Family Gallery
Money comes in a surprising multitude of forms and serves a variety of functions. We can trade it, we can hoard it, we can use it to measure our debts. However, Money Matters: Meaning, Power, and Change in the History of Currency demonstrates that money is much more. The objects on view, ranging from Mesopotanian clay tablets to 18th- and 19th-century American account books and counterfeit bank notes, reveal how money portrays the shape of societies and records moments in time. Money makes apparent histories of power, but also histories of everyday life, of trust, of social transformation, and even of war and revolution. The artifacts and ideas presented in Money Matters were inspired by students enrolled in "Histories of Money," a course taught by Associate Professor Desmond Fitz-Gibbon.
This exhibition is made possible by the Susan B. Weatherbie Exhibition Fund and the Leon Levy Foundation.
Events And Links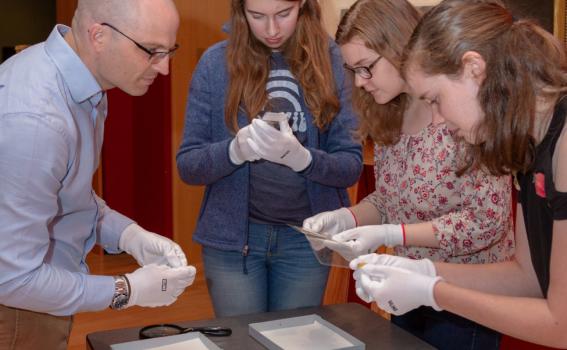 October 10, 2019 | Art Museum Galleries
Money Matters
Gallery Talk
Join Desmond Fitz-Gibbon, Associate Professor of History, and students for a close look at the history of currency.