Objects of Our Affection:
Last month, a blogger for OnlyInYourState.com deemed Mount Holyoke's Joseph Allen Skinner Museum the number one weirdest place in Massachusetts. Aaron F. Miller, MHCAM's Associate Curator of Visual and Material Culture, takes the opportunity to explore the top 10 weirdest objects in the Skinner Museum collection. A mummified wedding cake? A Teddy Roosevelt nutcracker? Read on to learn about these wondrous oddities!
Skinner Weird
The Joseph Allen Skinner Museum is many things. The collection has proven to be an invaluable resource for Mount Holyoke College classes from a myriad of disciplines, local K-12 students, and curious souls of all ages. Now, according to one blogger for OnlyInYourState.com, the Skinner Museum is also the number one weirdest place in all of Massachusetts. You may or may not agree with this curious designation--I personally think the Commonwealth is home to stranger places---but nonetheless, let's embrace this nomination to the realm of the strange and take a look at my personal list of the 10 weirdest objects in the Skinner Museum collection (in no particular order).

1. DESICCATED WEDDING CAKE
In 1887 Joseph Allen Skinner married Martha Hubbard and the newlyweds kept a piece of their wedding cake as a memento. More than 100 years later, this mummified piece of cake is one of the 7,000 objects in the collection.
2. STALACTITE GLOVE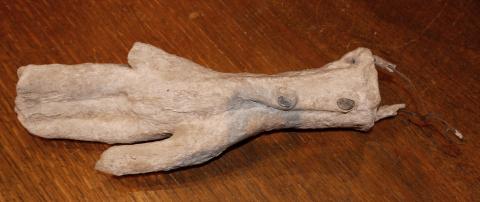 This mysterious object was unidentified until close-looking revealed what appear to be metal buttons protruding from its hardened crust. Apparently, someone took a Victorian lady's glove and hung it inside a cave. Many years later, the minerals leaching through the ceiling entombed the glove in calcium carbonate, creating this oddity.  

3. FAWN PARLOR DOME
Acquired by Skinner in 1937, this Key deer (Odocoileus virginianus clavium), died shortly after birth at the New Haven Zoo in Connecticut. Measuring less than a foot in length, this fawn is a diminutive cousin of the white-tailed deer and is native only to the Florida Keys.

4. THEODORE ROOSEVELT NUTCRACKER
This figural nutcracker depicting America's 26th president was likely intended for the American market but manfactured in Switzerland; it reflects the famed Black Forest tradition of woodcarving. When the mouth opens, Teddy transforms from presidential to terrifying.

5. PIG BOTTLE
This bitters bottle in the form of a pig was sold by Philbrook & Tucker of Boston (ca. 1865-1874). It contained a mixture of alcohol and various vegetal ingredients intended as a cure-all. In the words of the manufacturers, their product had "no equal" and could be used for relieving "the dyspeptic, the bilious, and debilitated."

6. FIGUREHEAD ARM
Somewhere along the line a ship's figurehead lost its arm. In the nineteenth century, female figureheads on the prows of ships would often have outstretched arms pointing the way. Now, this particular arm resides on the wall of the Skinner Museum, pointing to who knows what.

7. JENETTE, THE DOLL
This eighteenth-century doll named Jenette was passed down in a South Hadley family. Originally, she would have had glass eyes, hair, and limbs but generations of children loved most of her away and left us with this not-so-pretty little dolly.

8. EIGHTEENTH-CENTURY MOUSETRAP
Vermin have always been a bother, especially when they could carry the bubonic plague! This early mousetrap operates much like a guillotine where an activated pressure plate causes a blade to drop and...you know the rest.

9. COCO DE MER
This extremely rare and bizarre-looking form of coconut, the Coco de Mer, is native only to the remote Seychelles Islands in the Indian Ocean, more than 900 miles off the east coast of Africa.

10. HIPPO SKULL
Skinner likely acquired this skull of a hippopotamus while touring South Africa and had it shipped back to South Hadley. Because really, what museum is complete without a hippo skull?
Perhaps this group of 10 objects is not the strangest ever encountered. Nonetheless, one cannot deny the fact that some of these items are just plain weird. So, here's to the weirdest place in all of Massachusetts! Did I mention I love my job?
-Aaron F. Miller, Associate Curator of Visual and Material Culture