Tricia Y. Paik
Florence Finch Abbott Director
Tricia Paik (left), with Amy Martin (Director of the Weissman Center for Leadership and Professor of English on the Emma B. Kennedy Foundation), artist Joan Jonas ('58), Harriett L. ('58) and Paul M. Weissman
September, 2022
Considering our Freedoms
We are now in our third year of a global pandemic. Despite this reality, I still experience moments of disbelief regarding how our daily freedoms were drastically impacted in early 2020. Getting groceries, seeing loved ones, enjoying culture out in the world. Who would ever have thought that museums around the world would have to close their doors? Thus, I am pleased to announce that the Mount Holyoke College Art Museum will finally open this fall to all our audiences.
It is especially meaningful to re-open MHCAM with vanessa german—THE RAREST BLACK WOMAN ON THE PLANET EARTH. As an activist artist dedicated to reshaping dominant systems and spaces through social healing and repair, german is a particularly significant artist for both MHCAM and the Joseph Allen Skinner Museum at this moment in our history. Indeed, part of her exhibition, MUSEUM OF EMANCIPATORY OBJECTS, is a site-specific installation that responds to the 19th-century colonialist origins of museums.
With many freedoms in daily American life still not given to all (and some actively being revoked), it is our fervent commitment at the Museum to give freedom to voices and perspectives not always amplified or celebrated. While we continue to critically consider whose stories we share with our public, we still have much work to do. In addition to german's incisive and inspirational exhibition, a smaller show, Considering Indigeneity, exemplifies the ways in which MHCAM staff are actively expanding the narratives in our galleries through both acquisitions and display. This truly collaborative project brought together multiple curators and writers to present an innovative display of objects ranging from Paleolithic artifacts to contemporary art.
Indeed, it takes a village for all our work to be done. Thus, before I close, I would like to commemorate two people who were part of our village. Kristin Ann Mortimer, who passed away in July 2022, served as director of MHCAM from 1990 to 1993. An important initiative led under her tenure was an exhibition drawn from the collections of Mount Holyoke alums and friends of the College, Collective Pursuits: Mount Holyoke Investigates Modernism. The corresponding catalogue included an essay by then Professor of Fine Arts on the Alumnae Foundation, Robert L. Herbert, who passed away in December 2020. Already a pioneering scholar of 19th-century French art when he arrived at Mount Holyoke in 1990, Herbert taught art history until his retirement in 1997. We hope our continued work honors their memory.
Tricia Y. Paik, PhD
Florence Finch Abbott Director
---
January, 2022
How to Rise and Renew
Confucius once said, "Our greatest glory is not in never falling, but in rising every time we fall." The past two years have certainly been remarkable and historic. There were the challenging and difficult moments, the shocking realization when the entire world was felled by Covid-19, something detectable only under a microscope but powerful enough to spawn a global pandemic. There were also the moments when society bared its unjust ills so rawly, with the killings of Ahmaud Arbery, Breonna Taylor, and George Floyd, and too many others to name.
There have also been redeeming moments when humanity rose to the occasion, when medical and essential workers did what needed to be done, saving lives. Protests erupted around the world, staking claim for social justice. As an important consequence, museums are responding to this time, rising up and striving to be better at what we do, not only for our public but for staff as well. As Lonnie Bunch, revered secretary of the Smithsonian Institution, stated on July 2, 2020 in The New York Times:
I believe very strongly that museums have a social justice role to play, . . . to help the community grapple with the challenges they face, to use history, to use science, to use education, to give the public tools to grapple with this. . . . What I'm expecting museums to be is driven by scholarship and the community. I want museums to be a place that gives the public not just what it wants, but what it needs.
Prior to March 2020, we at MHCAM were already reevaluating how we present our collections and exhibitions, reinstalling our galleries and acquiring new work in order to decenter traditional Eurocentric narratives and raise the voices of marginalized cultures and communities. Now, we are focused with more urgency. We will experiment and take risks—as one can do more freely at an academic museum. In the process, we will undoubtedly make some mistakes but we will learn and continue to rise.
Our central goal is to assess and offer what our communities need—those both within and outside the MHC gates. In part, this means better representing these communities in our galleries. For example, our Front Gallery features a small exhibition devoted to new acquisitions selected by MHC faculty, works by BIPOC artists that can be used in our dynamic Teaching with Art program. In addition, we are pleased to unveil a new acquisition by Shinnecock artist Courtney Leonard, featured in our evolving American gallery.
We are also celebrating what is distinctive about Mount Holyoke College. Last year we had planned to host special exhibitions honoring the 75th anniversary of the Joseph Allen Skinner Museum bequest to the College. Instead, we will commemorate this unique collection of material culture over the next two academic years with three exhibitions featuring contemporary artists and their investigations of the Skinner Museum. This year our galleries welcome Lenka Clayton—Comedy and Tragedy and Random Sampling: Photographs by Rosamond W. Purcell. Next year we will feature activist artist vanessa german and her exhibition, titled THE RAREST BLACK WOMAN ON THE PLANET EARTH.
Of course, we would be nothing without our students and alums, who are indeed our raison d'être. Two Art Museum Advisory Board members who were once involved with the Skinner Museum, Beth Chernichowski '73 and Rebecca Keim '76, share their recollections in this issue of the MHCAM Journal. And this spring we honor esteemed artist Jane Hammond '72 with a solo exhibition to coincide with her 50th class reunion. This year we at MHCAM are ready for much needed regeneration and renewal to support our students, faculty, and valued communities. We are back in whatever form the moment will require!
Tricia Y. Paik
Florence Finch Abbott Director
---

June 16, 2020
Dear Loyal MHCAM Supporter,
Warm wishes for your health and safety from the Mount Holyoke College Art Museum. The past few months have certainly tested our strength, resilience and fortitude. As we see our communities grapple with intense pain and struggle, we remain inspired by the valuable work we do at MHCAM for our students, professors and those beyond the gates. Thank you to all who have reached out to express your support at this time.
Despite the challenges this spring, I am proud to say that the Museum pivoted quickly to support our professors in teaching remotely with our collection, resulting in our first ever set of virtual exhibitions curated by our students. We also created other exciting digital content, such as a video introduction to the Skinner Museum, an interview with artist Bisa Butler and a virtual 3D tour of our galleries.
We are able to support these innovations as well as serve our campus and surrounding communities because of your belief in our mission. How we achieve that mission is an ever evolving process. We are especially grateful for our students' many contributions toward this effort. Our students consistently infuse our work with insightful and inclusive perspectives as well as new forms of understanding and scholarship.
Indeed, the current struggles we are facing due to the pandemic and continued racial inequities and injustices have reaffirmed the idea that museums are not neutral spaces. Instead, museums are a crossroads where we have the remarkable opportunity to come together to explore and uplift the full range of our artistic and cultural legacies. At a place like Mount Holyoke, we realize that the strength of our community lies in its diversity as well as its commitment to social justice.
We are grateful for your support of the Museum and your belief in the impact that we can all make together.
Thank you again for your ongoing commitment to the Mount Holyoke College Art Museum.
With gratitude and best wishes for good health to you and yours,
Tricia Y. Paik, PhD
Florence Finch Abbott Director
---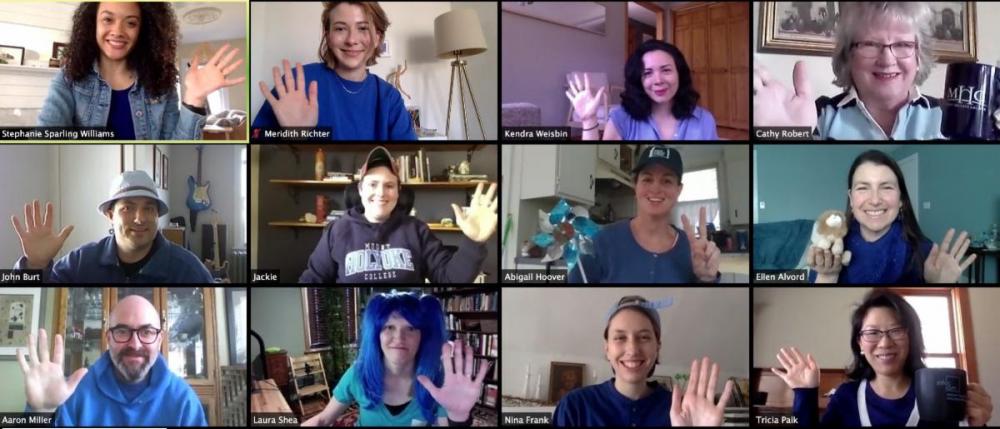 May 22, 2020
Dear Loyal MHCAM Supporters,
Greetings from the Mount Holyoke College Art Museum. Last weekend the College virtually celebrated the Class of 2020 (the Blue Lions) and their next chapter beyond the Gates. Since MHC has prepared them well, this class will be brilliant and confident, and now more resourceful and resilient, as our new reality has made them grow up faster than most.
They will face this new world with an inner strength not asked of young adults in a very long time. I for one look forward to seeing what this Class of 2020 will do in the coming years, as I'm sure you will, too. I know they will live by Mary Lyon's words: they won't only "go forward" and "attempt great things." They will "accomplish great things" and will do so making Mount Holyoke proud.
The Museum pivoted splendidly this spring to keep our promise to the MHC community, as we quickly translated Teaching with Art into Remote Teaching with Art. Despite our new circumstances, we were still able to support our professors in their online classes, together innovating digital pedagogy on the fly!
I'm truly proud of the "great things" that MHCAM staff accomplished in just the past two months: several virtual exhibitions developed in remote classes; a video tour of the Skinner Museum; a video with artist Bisa Butler about MHCAM's new acquisition, and even a 3D tour of our galleries by ExhibitaPro! And just the other day MHC's Office of Communications and Marketing posted this article about one of our virtual exhibitions!
We were able to continue our passionate work this spring, teaching art remotely and developing new content because of the promises you've made to us, through your annual Friends of Art giving, gifts of artwork, and the establishment of endowed funds, as well as your commitment and time.
We are here in many ways because of you. For that we thank you.
And above is the MHCAM staff in a Zoom photo we took to honor the Class of 2020, and so we send our good thoughts onto you!
With gratitude and wishes of good health for you and yours,
Tricia Y. Paik, PhD
Florence Finch Abbott Director
---

April 10, 2020
Dear Friends of MHCAM,
Greetings from the Mount Holyoke College Art Museum. The entire Museum staff and I send best wishes of safety and good health to you and your loved ones.
After the College's extended spring break, remote classes began last week. Under President Sonya Stephens's swift leadership, the College quickly mobilized to train professors in effective remote teaching methods for all disciplines offered at MHC, and I'm pleased to share that the Museum has pivoted to support our professors in Remote Teaching with Art!
We are working to create new digital content in order to engage with professors and students and to offer our exhibitions virtually to our broader community. We will share updates with you via Instagram, Facebook, and email in the coming weeks. In the meantime, I wanted to share with you the video documentation of last year's memorable, once-in-a-lifetime campus performance of Mirror Piece I & II: Reconfigured (1969/2018-2019) by internationally celebrated artist and MHC alumna Joan Jonas '58, featuring Mount Holyoke students. While we are temporarily distanced from each other, I hope you'll enjoy watching this inspiring performance in the comfort and safety of your own homes.
The performance reminds me of the enduring promise of art, as well as human ingenuity and perseverance during times of challenge and struggle. Mary Lyon's famous words, thus, come readily to mind: "Go forward, attempt great things, accomplish great things."
During this unprecedented time, please know that MHCAM is holding up our promise to do whatever we can to support our students and faculty and to share our exhibitions and collections with our extended community that includes you.
Thank you for your support and wishing you and yours much safety and good health. #MHCAMAtHome
Tricia Y. Paik, PhD
Florence Finch Abbott Director
---
December 2019
Continuity and Renewal
In 8 CE, Ovid wrote in his epic
Metamorphoses
: "So time flies on and follows. . . . Always, for ever and new. What was before is left behind; what never was is now; And every passing moment is renewed." Still centuries later, Ovid succinctly captures what it feels like to experience continuity and renewal simultaneously.
Indeed, that is the atmosphere at the Mount Holyoke College Art Museum as we say goodbye to two staff members with significant legacies: Debbie Davis, who dedicated 17 years to overseeing operations and development at the Museum, and Linda Delone Best, who recently retired after 20 inspiring years caring for the Museum's collection. It is also an exciting time as we welcome three new talented staff members to Team MHCAM: Associate Curator Stephanie Sparling Williams, Museum Registrar/Collections Manager Abigail Hoover, and Assistant Museum Preparator Christina Frank.
Our new colleagues bring with them fresh perspectives, spirited innovation, and distinctive expertise. Together, we will continue to provide transformative experiences with works of art and material culture for our students and community. Whether through exhibitions, classes, or mentoring, we will do so with renewed focus and energy inspired by our new colleagues.
This fall we officially celebrate the tenth anniversary of our exceptional Teaching with Art program, which began in 2009 with generous funding from The Andrew W. Mellon Foundation and an endowment from Susan Weatherbie '72. The exhibition that marks this important milestone, Major Themes: Celebrating Ten Years of Teaching with Art, continues for its second and final year, with several installation changes that enliven the gallery.
In the Making: The Mount Holyoke College Printmaking Workshop is curated by Katelyn Allen, our 2018–2020 Art Museum Advisory Board Fellow, and honors the achievements of this workshop that brought leading women printmakers to Mount Holyoke over almost three decades. Money Matters, an exploration of the history of currency, is co-curated by Associate Professor of History Desmond Fitz-Gibbon and Associate Curator of Visual and Material Culture Aaron Miller. Students from Professor Fitz-Gibbon's course, "Histories of Money," were also involved in planning the exhibition, exemplifying the kind of innovative collaborations MHCAM often undertakes with both faculty and students.
Looking to the past is what we do at museums, but always with an eye to the future. While we were sad to say farewell to the brilliant students of the class of 2019 who worked with us closely at MHCAM, we are thrilled to welcome our new interns and student guides and receptionists. And there is no better way to capture the pulse of the future than through greeting and getting to know the incoming class of 2023. Such is the cycle of a bustling academic museum like ours. All at once we are a place of the past, present, and future—of continuity, change, and renewal.
Tricia Y. Paik, PhD
Florence Finch Abbott Director
---
Fall 2018
Lasting Connections
Since my arrival at MHCAM in the fall of 2016, I have been struck by how Mount Holyoke fosters such loyal connections with its students during their time here and beyond. As a testament to this, influential alumna artist Joan Jonas '58 returned to campus as our Leading Woman in the Arts speaker during the fall of 2018. This special visit provided unique and memorable opportunities for our students to engage with Jonas, who has been a pioneer in video and performance art since the 1960s. In concert with her lecture, the Museum is presenting a yearlong, focused exhibition that examines her ongoing use of the mirror, Promise of the Infinite: Joan Jonas and the Mirror.
What has also impressed me is the breadth and variety of alumnae who have committed themselves to the visual arts, whether as artists, such as Jonas, or as curators, art historians, gallerists, or patrons. Last April 2018 we hosted our Director's Circle tour in Cleveland, which boasts a vital and growing art scene. Fourteen MHC alumnae, with several spouses joined us, and local civic leader and art philanthropist Leslie Dunn '67 generously co-hosted our welcome reception at MOCA Cleveland, where tour attendees mingled with other local alumnae committed to the arts.
Indeed, I continue to be inspired as I meet more and more alumnae who possess a deep appreciation for the visual arts, and for many, this love can be traced back to their time at the College and their experiences at the Museum. We at MHCAM believe our exhibitions and programs enrich Mount Holyoke's distinctive liberal arts education. In small and profound ways, we help shape the future of our alumnae, whether as medical students who have learned observation skills in biology classes held at the Museum, law students who have trained in our Student Guide program, or as burgeoning artists who have presented their senior theses in our Museum lobby.
Another way we are showcasing how the Museum enhances our students' liberal arts experience is through our two-year exhibition Major Themes: Celebrating Ten Years of Teaching with Art, on view through June 2020. Throughout the installation and other galleries, visitors will have an opportunity to experience a sampling of the innovative connections students and faculty make between original works of art and course topics. They will also be able to read the incisive labels written by our student and faculty collaborators.
We look forward to welcoming our talented students, committed alumnae, and engaged community visitors to an exciting roster of exhibitions and programs this year as well as in the years to come.
Tricia Y. Paik, PhD
Florence Finch Abbott Director
---
Fall 2017
New Beginnings
Fall greetings from Mount Holyoke! Ever since I was a child, I have loved the arrival of fall. Back then, it meant my carefree summer was over, but somehow I already grasped the promise of new beginnings. As I start my first official fall at Mount Holyoke, I find that I am greeting this new semester with the same authentic excitement. It has been almost a year since I arrived at the College, and I continue to be inspired by the stellar education and myriad opportunities that Mount Holyoke offers its students.
Speaking of new chapters, this newsletter is our first annual (as opposed to biannual) issue. Reconceived to provide richer content and different perspectives, the annual newsletter will complement our exhibitions with scholarly essays and collection research. We are including more faculty and student voices, and continue to highlight our Teaching with Art program.
This fall our exhibition program is quite diverse in its offerings. We are especially pleased to unveil two guest-curated exhibitions that highlight our ongoing collaboration with faculty at the College as well as those in the Five College Consortium. This kind of collaboration is at the heart of what we do at MHCAM, and all three of our special exhibitions will be accompanied by gallery talks by MHC and Five-College faculty, including professors Gülru Çakmak, Spencer Smith, and Donald Weber.
Our permanent galleries also feature fresh and exciting changes. The Museum's Harriet L. and Paul M. Weissman Gallery showcases important works of modern and contemporary art from the collection, with a spotlight on the Museum's strong holdings in Surrealist art. Rarely-seen works on paper debut in the Norah McCarter Warbeke Gallery of Asian Art and the Caroline R. Hill Gallery, among others.
We are also thrilled to announce that leading contemporary artist and professor Michelle Grabner is our featured speaker for the Patricia and Edward Falkenberg Lecture, kicking off our fall opening events on September 14, 2017. The lecture also marks an important acquisition of her work for MHCAM, which will be on view in the freshly-installed Weissman Gallery.
In the spring of 2018, we open Piece Together: The Quilts of Mary Lee Bendolph, the culminating project supported by the prestigious Diverse Voices grant from the Pierre and Tana Matisse Foundation and the generous gifts of individual donors. This transformative exhibition showcases quilts and prints by Bendolph, one of the renowned quilt-makers of Gee's Bend, Alabama.
As you can see, there is plenty of activity at MHCAM, and I do certainly hope you will visit us this year. Please be sure to stop by and say hello!
Tricia Y. Paik, PhD
Florence Finch Abbott Director
---
Fall 2016
Building on a Legacy
It is with much enthusiasm and honor that I write this letter as the new Florence Finch Abbott Director of the Mount Holyoke College Art Museum. As my tenure began in the fall, I was fortunate to join the 140th anniversary celebration on November 11, 2016. It was a lively, memorable evening, well attended by students, neighbors, and members of MHC faculty and staff, including Acting President Sonya Stephens and Dean of Faculty Jon Western.
Our showcase was the 140 Unlimited ;exhibition, a stellar reinstallation of the galleries that features over 140 recent acquisitions and continues this spring. As many of you know, my predecessor John Stomberg tirelessly led the 140 Gifts campaign, an impressive initiative that resulted in over 300 acquisitions made possible through the considerable generosity of our many supporters.
The Museum's distinguished history and expanded collection were celebrated that evening, while our students brought great originality and vitality to the galleries. Our Student Guides led engaging tours while other students shared their own ekphrastic poems inspired by individual works on display. The evening concluded with a splendid roaming concert through the galleries; of special note was the choral finale featuring the work of alumna Linda Conway Correll George ('60).
Indeed, it was a very auspicious start to my tenure here. Although it has been only a few months since I arrived at the College, I must say I already feel at home. The Museum staff and the broader Mount Holyoke College community have been very welcoming, making my transition seamless. While I have curated contemporary art for many years, I most enjoy working with an encyclopedic collection, such as MHCAM's, and creating connections across centuries and cultures. The Joseph Allen Skinner Museum also resonates with my interests, and thus I find our corresponding commitment to both art and material culture meaningful and relevant. Through such distinctive resources and our esteemed Teaching with Art program, MHCAM actively enriches the lives of our students and surrounding community. It is exactly the kind of museum where I want to be.
As we embark on our next chapter, I would like to thank former directors Marianne Doezema and John Stomberg, and former curator Wendy Watson for their significant contributions. We would not be where we are today without their legacy. I would also like to share my gratitude to both past and current members of the Art Museum Advisory Board for their longstanding support and counsel, and in particular to Board Chair Susan Noonan ('82). 
And finally, I extend a heartfelt thanks to the talented, committed Museum staff for their tremendous work, and to Ellen Alvord, Weatherbie Curator of Education and Academic Programs, who served as the interim director with boundless energy and aplomb.
I look forward to meeting more of our supportive community, and hope you will introduce yourself whenever you visit MHCAM—it would be an honor to personally welcome you!
Tricia Y. Paik, PhD
Florence Finch Abbott Director